Welcome everyone to my update, week two. As I said last week, from now on my updates will probably be shorter, except during a week that I end up going out to some big locale, but that probably won't be for a good while. The amount of pictures may be less as well, but I've got a few more this week because of what I did on Sunday.



Sunday:
On Sunday there was one more big event for the NUPACE students. It was something called a "Welcome Walk". Basically we met in front of the International Student Center, picked up a small lunch for later, and walked over to the nearby Higashiyama Kouen (park). It's like a park/zoo/picnic like place. I thought it was pretty interesting, but it's not nearly as interesting with just words so I'll explain with the pictures I took.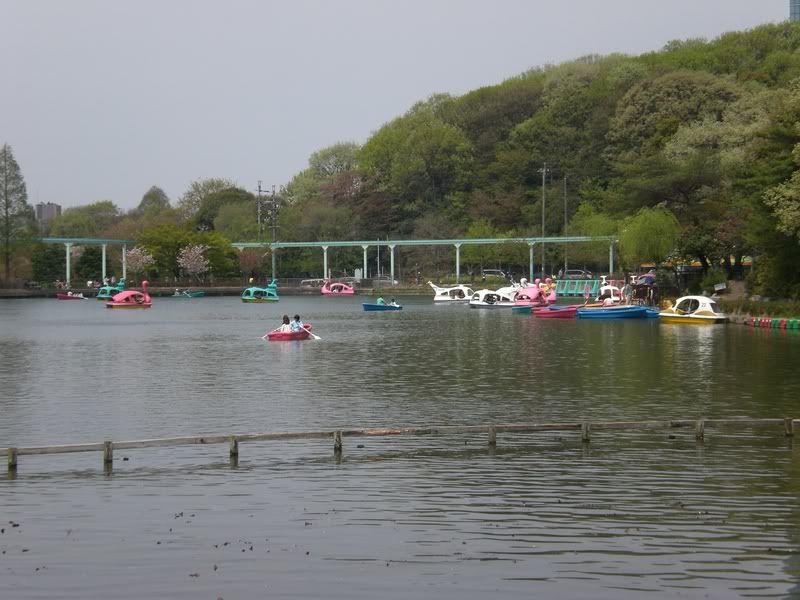 This was the first thing right in the entrance to the park. I guess it's just that kind of thing where you rent small boats and can paddle out in the water for awhile. All of the boats are shaped like animals.



Some building that I saw over the trees in the area with the big lake.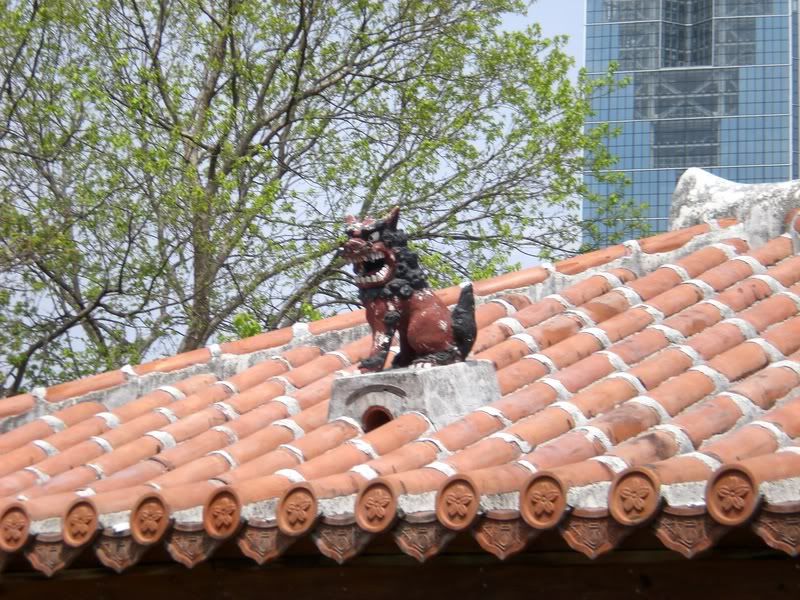 This may look like a lion/dragon thing, but it's not. It's an oni; which is the Japanese word for a demon. This was just a tiny statue on top of one of those places where you can sit on benches and eat lunch.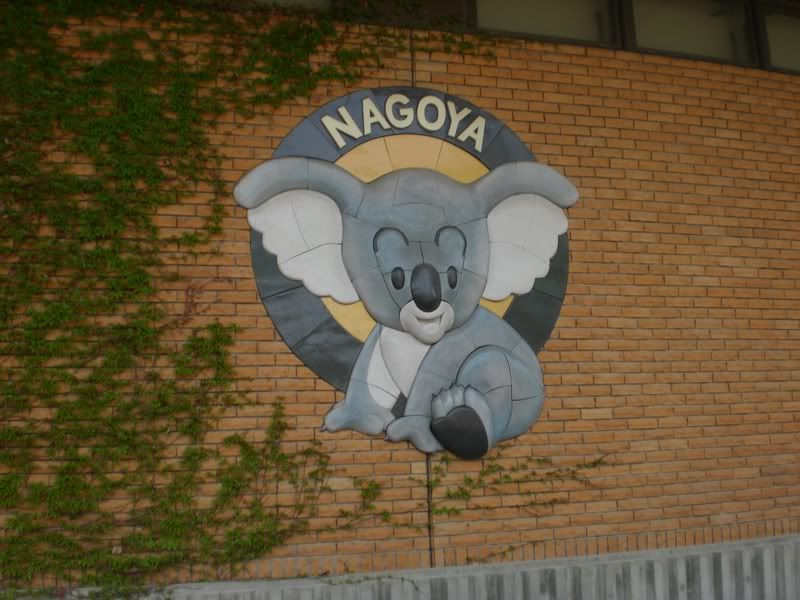 This Koala is apparently the mascot of this zoo.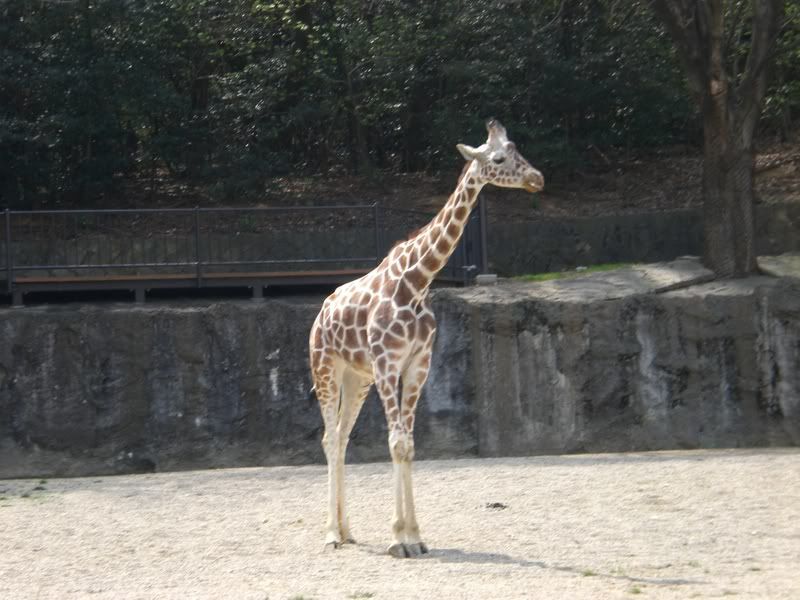 A giraffe; these were the first animals we passed.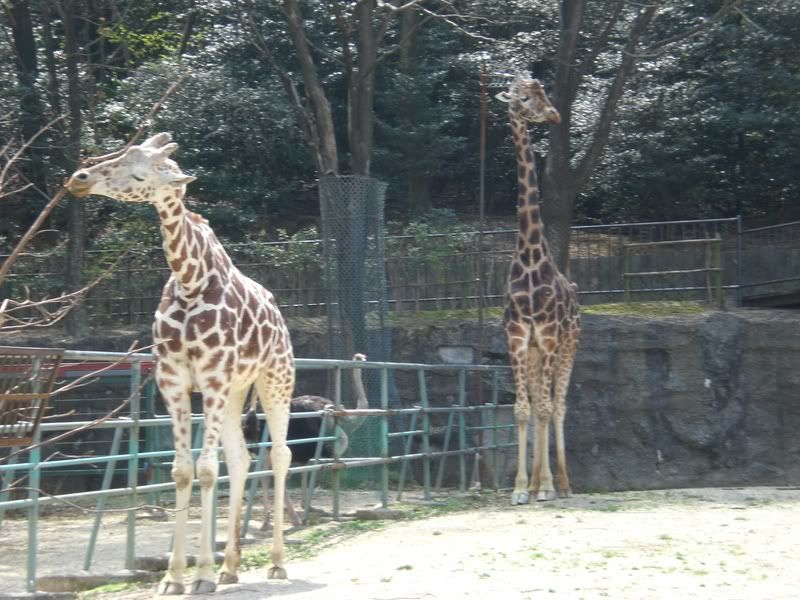 Giraffes again, and an ostrich in the back.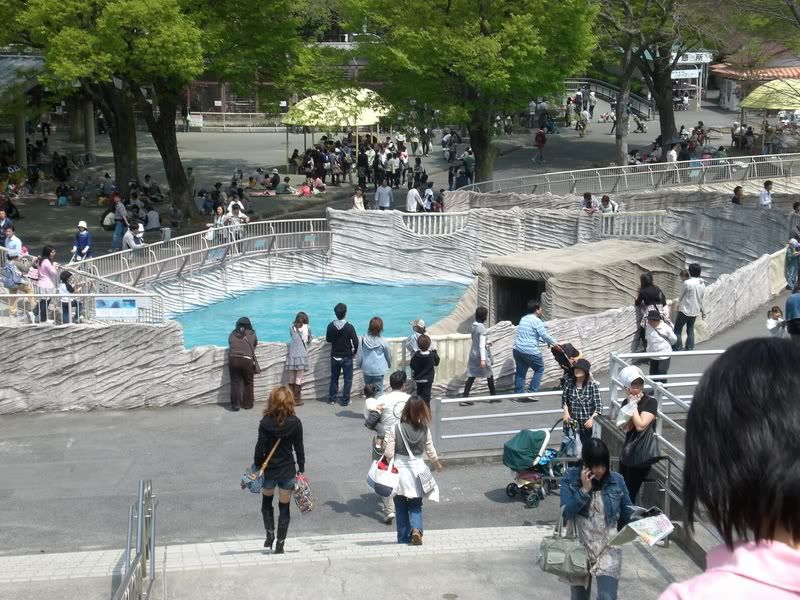 I think that area at the bottom of the stairs is either polar bears or seals. I know it was some kind of arctic animal. This is the area where they let everyone split up and go wherever they wanted until 3:00. I went with a few others.



First we went by the koala cage. This picture isn't very good because I had to turn the flash off and I couldn't get a good angle. After we saw the koalas we ate lunch. I just had some udon bentou I bought earlier.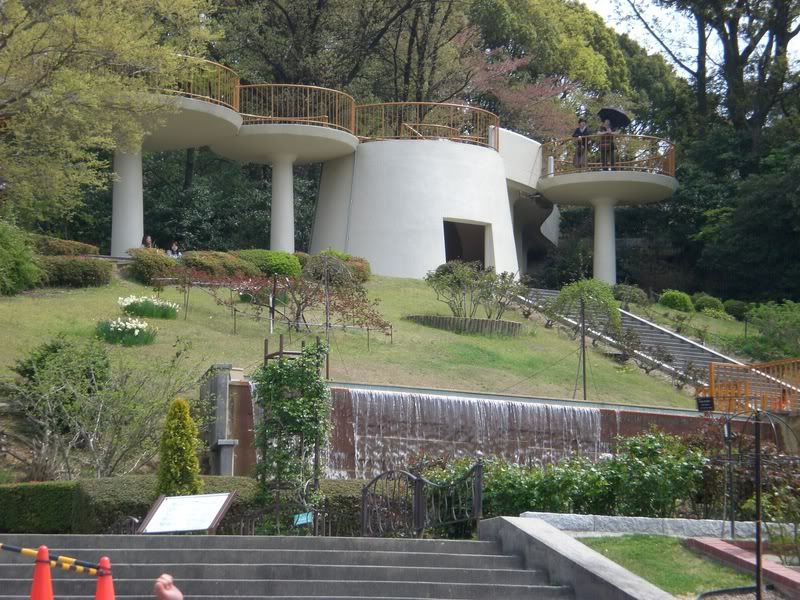 After eating, we started up towards an area of the park that was more like a botanical garden. The next four pictures are just some areas I took pictures of on the way up.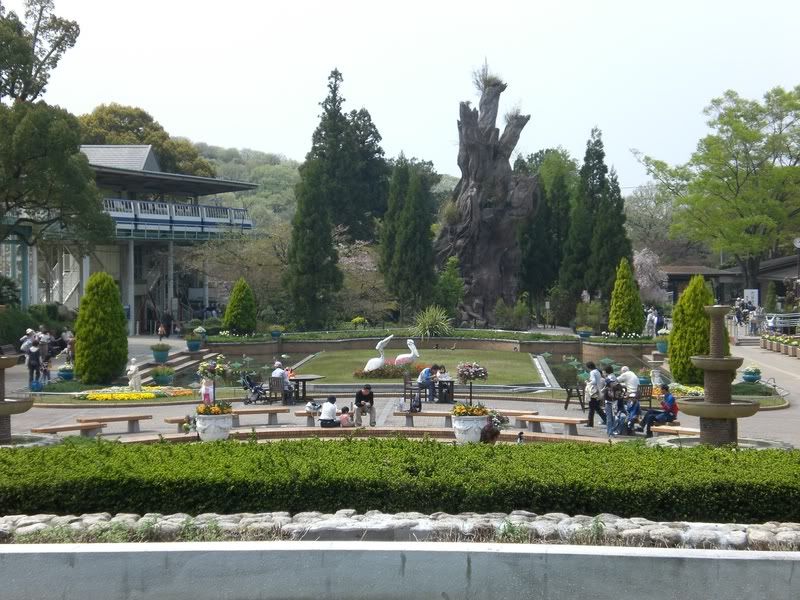 At this point there was a really big hill we had to walk up to get to the top of the garden area. That was were everyone was meeting as a big group with snacks and stuff. This is what most of the trees along the hill were.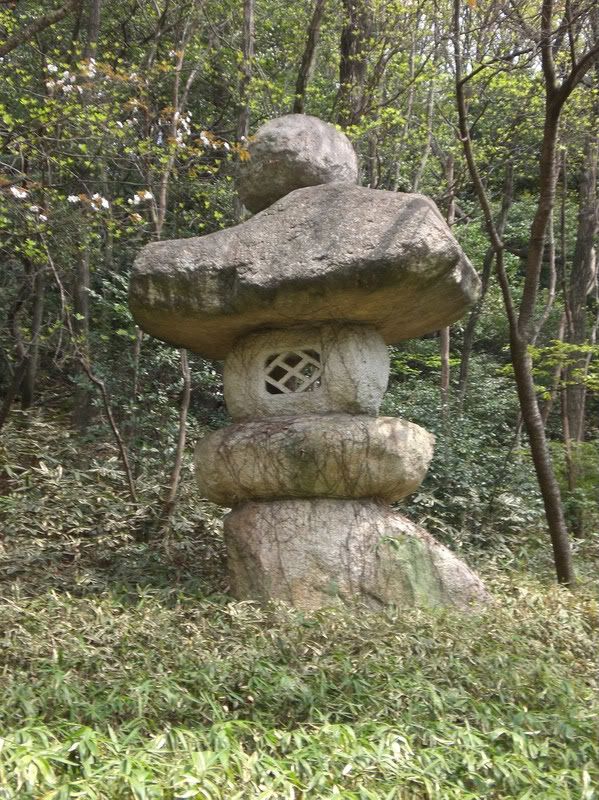 I just thought this looked cool.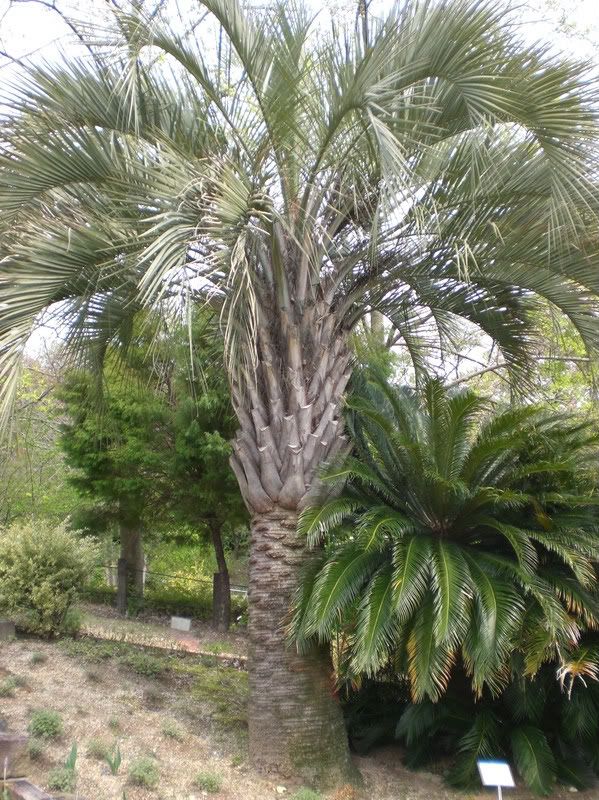 An interesting tree.



On a lookout point at the top of the hill. It was a really nice view.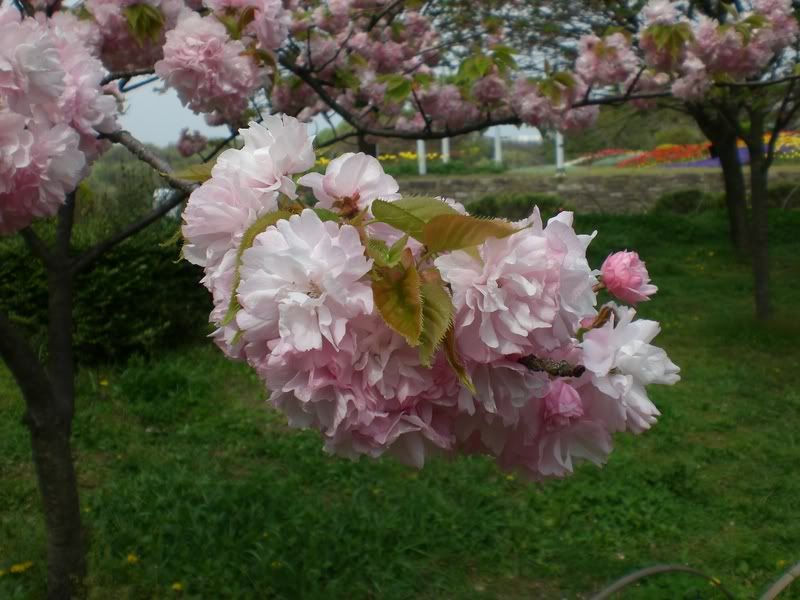 Some kind of sakura flower.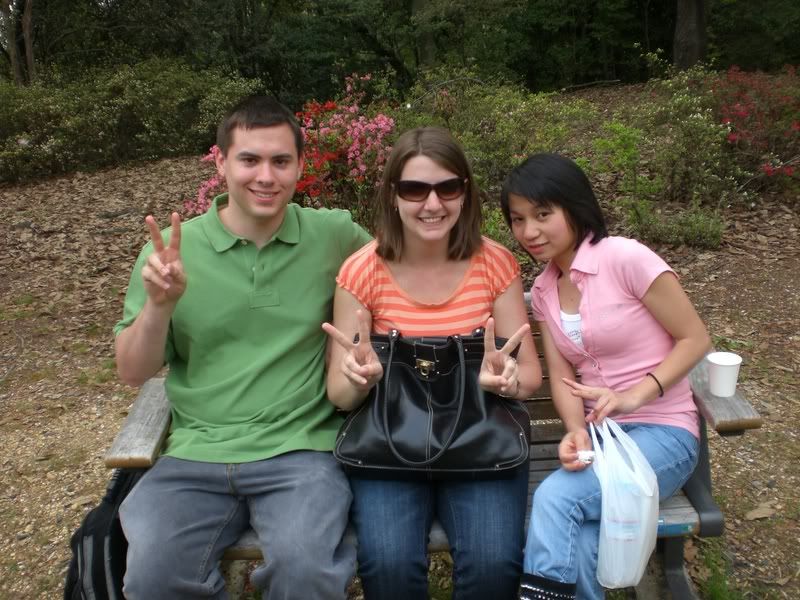 These are some of the people I've met here. The one in the middle is Kristen. She's from Kentucky, and is the same Kristen that I met on the plane ride over here. The one on the far right is Thuy (pronounced "Twee"). She's.....she's either Korean or Vietnamese, I forget, but she's actually from America, too.

Monday:
Now this is when classes officially started. Every weekday I have two periods of the Japanese language intensive course in the morning. This course is split up across each period and day into different teachers and areas of learning. Like, one day will be Listening Comprehension, one will be Reading, one will be Conversation, and so on. There's one other but I forget the name at the moment. At first I thought it was kinda hard, 'cause I wasn't expecting it to be entirely in Japanese. But by now I've gotten adjusted to the different teachers and stuff. It also helps that I sit next to a fellow NUPACE student who is very nice to talk to, so I'm not just sitting there bored inbetween lectures. I have two other classes on Monday, both taught by the same guy. Japanese Education, and Japanese Politics. They're both taught by this nice British guy. Yes, other than the Japanese language courses, pretty much all other courses are taught in English. They also only meet once a week, so these two classes are ONLY on Mondays. I think I'll like these classes, except for both of them I have to do a 15-20 minute presentation on a topic. At least I'm doing it in English, but even in English I hate presentations.


Tuesday/Wednesday:
Tuesday and Wednesday will be good for me because on these days I only have the normal Japanese language courses. So I'm free on those afternoons for the most part. This week I didn't do much on Tuesday......I might've gone shopping again, I think. On Wednesday after classes I met up with the NUPACE coordinators to fill out the forms for my bank account. Unfortunately, I have to wait two weeks before I can pick up my bank book and card and put money in. I have plenty of money on me already, so I'll be fine.


Thursday
On Thursday I have two other classes other than Japanese. One of them is, believe it or not, a yoga class. And no, it's not like, in a gym with nothing but mats and stuff. We were in a normal classroom, in which there was actually no room for practicing things like yoga. But I think there's gonna be more learning about it than actually doing it. The teacher was pretty interesting. He seemed kinda Canadian, but he didn't say where he was from. For that class there's no homework, no attendance check, no nothing. The only things we're graded on is a 10-page paper and a test at the end of the semester. Normally I'd be worried about such a thing, but since it's only one class a week, it's not so bad. The second class I have that day is a Cross-Cultural Communications class. Basically it's supposed to be examining, well, communication across cultures. For the first day everyone got put into a group of different ethnic backgrounds (I just got paired with two Japanese guys), and had us talk to each other for a bit. It was kinda interesting. We ended up talking about how Japanese go about learning English. It was interesting to hear about how someone goes about learning my own language. It makes me wonder how the Japanese think about all of us NUPACE students learning Japanese. Outside of classes it was a little inconvenient, because we couldn't go inside the lobby Thursday afternoon or all of Friday, because they were setting up for a big Bazaar on Saturday. I'll explain that when I discuss Saturday. So I had to sit right outside the lobby if I wanted to use the internet - and it gets pretty cold at night here.


Friday
One extra class on this day. Contemporary Japanese Society. This is one where different aspects of Japanese society are discussed each week with a different teacher. The only grades we have are three papers that have to be done on three different topics. I don't know what the first two will be for me; but I noticed that in the later dates, there's one lecture on Japanese animation. So I already know I'll be doing that one for the third paper.


Saturday
The main highlight of this day was the Bazaar at the International Residence. This is pretty much the place for international students to go to buy household appliances and daily goods for cheap. It was a bit bigger than I expected; lots of students were lined up early in the morning to get tickets. You had to get tickets to be allowed into each area and also because there were three different areas: one for daily goods, bedding, and toiletries, one for electronic appliances, and one for furniture. Most of what I bought was from the area with daily goods, etc. But I did buy a toaster oven from the electronics section for just 150 yen. Of course, I'm not gonna take it home with me. I could if I want to, but a lot of the things I bought I'm only gonna use for the next few months and then return them to the residence before I leave. That's how they get most of these things to sell - students will use them and then return them before leaving; so it's almost like I'm renting them for a one-time cheap payment, return whenever I want. Also, during the Bazaar, a care package from my mom arrived for this month. So, in terms of household items and food/snacks; I'm pretty much set for awhile, which I'm feeling good about. That evening, I was in the mood for some American food, so I went down to the Jusco department store in Yagoto; because on the second basement level they had a food court with a McDonalds. I had no idea if I could just say "plain" and hope that would work, so I just ordered a double cheeseburger set (set = fries and drink) without asking for anything different. It was fine - it had pickles and a little bit of mustard, but there was more ketchup on it than mustard, so it was actually pretty goood. It was nice to have some American style food for once.


Non-Specific Images from this Week: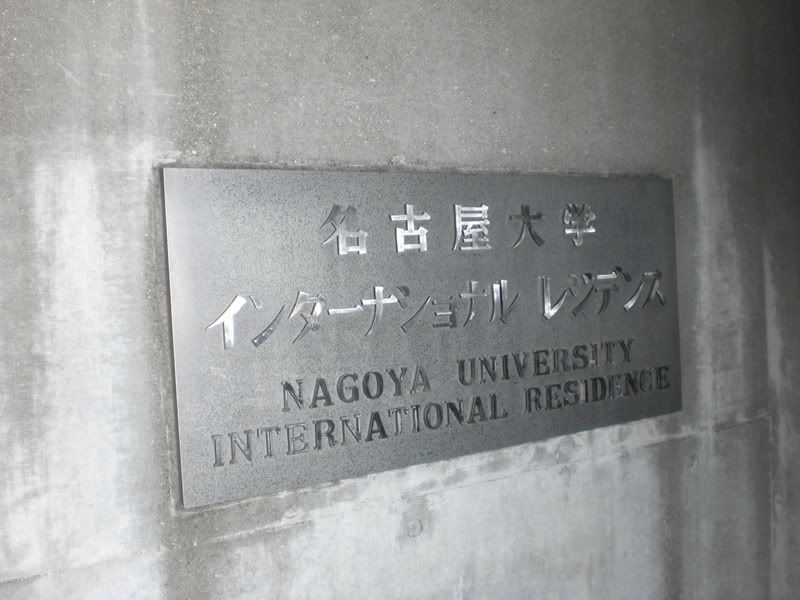 The sign right outside the International Residence. Not a very good pic because I took it at night.



I tried to take a good shot of the Yamate-dori (the main street that goes through the Higashiyama campus) at night, but it didn't come out well.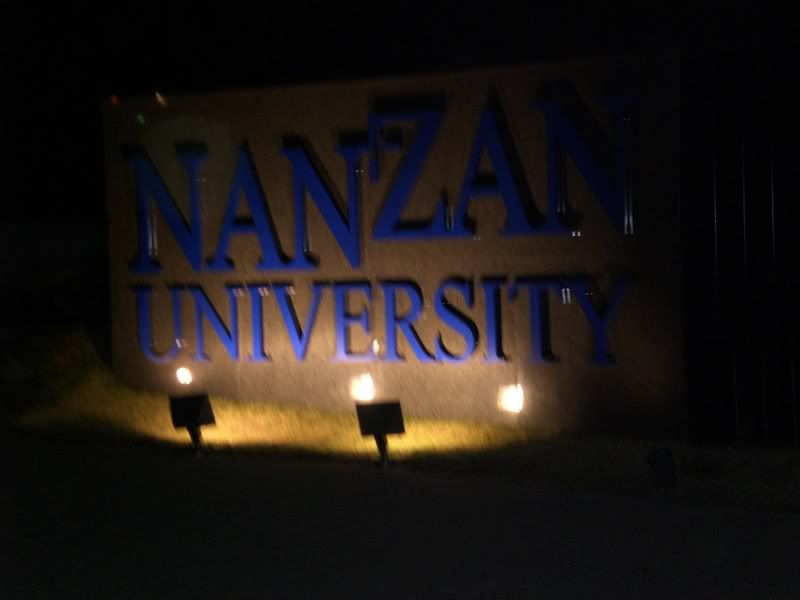 The sign for a smaller, nearby university, Nanzan. I think it's a private university.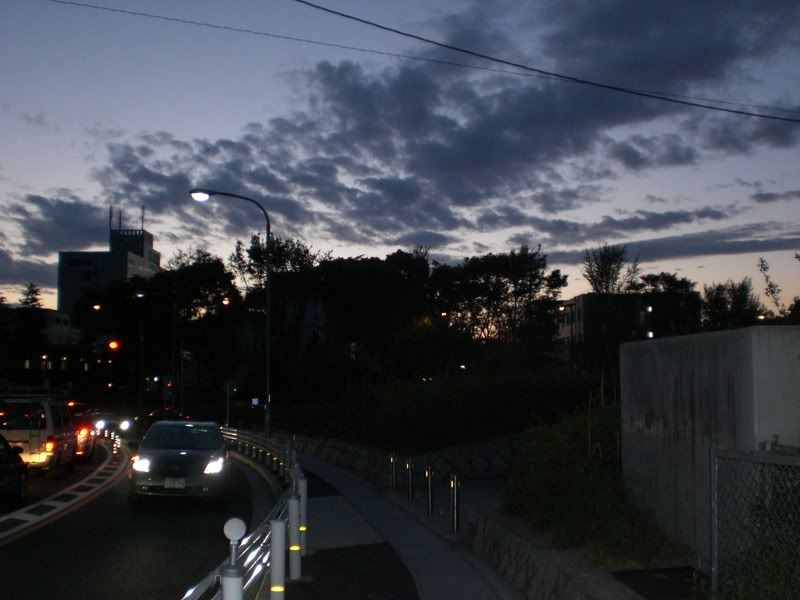 When I was heading out to Jusco the other night, I thought the scenery just looked really nice, so I took a picture.



When I turned the corner toward the subway entrance, the moon was in a position that I thought just looked really pretty, but it doesn't come out good at all in this picture.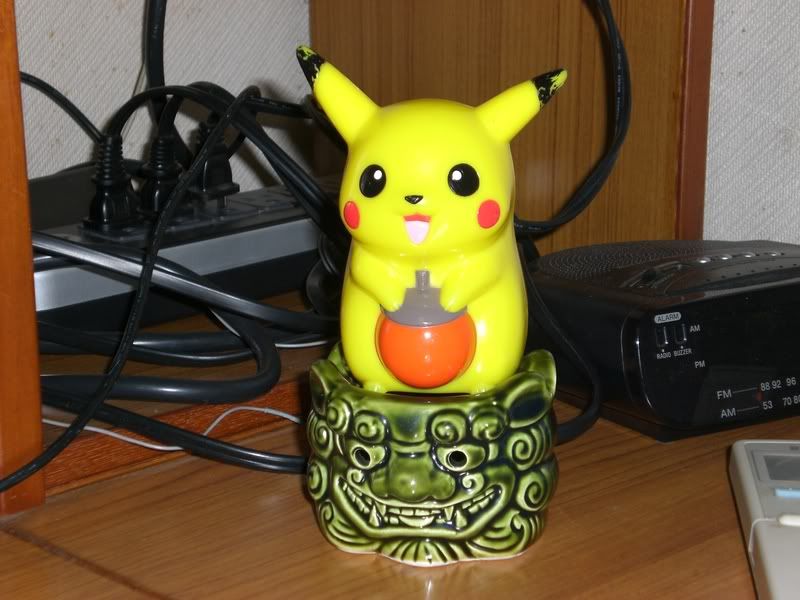 Two things I bought at the Bazaar. Actually, I didn't pay for these. I took them at the end of the Bazaar when they said that all that was left was free. The thing on the bottom.......I know it's designed to have an oni face, but I'm not sure what it IS. I just took it 'cause I thought it looked cool. The Pikachu on top of it is what I call a Pika-bank. It was only the anime nerd in me that took these items. (and that took this picture)


Well, that's it for this week. Look forward to next week's update~ =)